Opportunity comes Knocking
Blog — Pinter
21.09.21
Ralph Broadbent, founder of The Greater Good Fresh Brewing Company, came through our door one summer morning in 2019 and began to tell us about his product for the home — an affordable and sustainable brewing machine capable of producing 10 pints of fresh beer of cider in 72 hours.
We were instantly engaged by Ralph's enthusiasm and the product itself, and were tasked with the challenge of energising the entire brand by creating a beautiful and standout identity for what has now become known as 'Pinter'.
With a fresh logo, typography, colour palette and more, we also created a typographic emblem and wordmark, based around an exclamation mark (more on this later). Packaging-wise, we looked at everything from the small bottles of yeast to the Pinter unit itself, once a customer has their Pinter, they simply order more refill packs of ingredients, which arrive in a custom-designed "letterbox-friendly" box.
Back to the exclamation mark, which proved a winner with the packaging design. As Mark Jones, Design Director, explains: "We utilised the face of the product for its logo. When we realised the handle could be distilled down to an exclamation mark it was all systems go."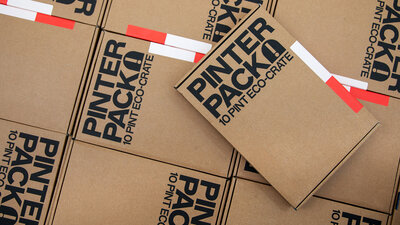 Paul Blackburn
Head of Studio said,
"The Pinter is truly a world-first, never before could you brew fresh beer at home in around three days and enjoy a genuinely great tasting draught pint. Our design challenge was to effectively define an entirely new category in the world of brewing — conveying the freshness of the end product and innovative technology that delivers it. This was coupled with the very practical requirements of bespoke packaging — including a 700ml bottle of Fresh Press that fits through your letterbox."